WE ARE GROWING! Warm welcome to Will Rackham, our new Practice Lead with more than 10 years in the consultancy industry. Hear from Will on how his first week at S&S has been, the expertise he will bring and what adventures he drags his family into – regardless of the weather.
Why did you join S&S?
All industries are going through some form of transformation at the moment, and I believe that consulting firms are no exception. We need to look at what's important in our own industry and discover new ways of working and delivering client value. Without a clear burning platform it can be difficult for firms to look at themselves in the mirror to ask what needs to be unlearnt so that they can be free to learn new things. 
As a digital native, S&S intrinsically approaches business in this reflective manner. They're already more adaptive and agile because they were digitised from birth. The customer is at the heart of the business and I genuinely enjoy working in such an environment where I have the mandate and freedom to disrupt and explore new opportunities for customers.
Tell us a bit about your background
Before joining S&S, I spent 3.5 years with PA-consulting developing extensive public and private sector experience. Global change and transformation work at GSK and the MoD enabled me to develop diverse insights, curiosity, and highly informed perspectives that challenge traditional business beliefs on how to create value in the digital era. 
What has your first week been like?
It has involved a considerable amount of listening and questions to get an understanding of everyone's job role and the S&S vision going forward. Everyone has been exceptionally welcoming and it seems like there's a fantastic dynamic across the teams.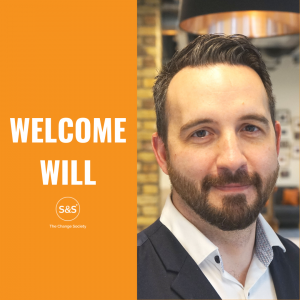 What aspect of your work are you most passionate about?
I am deeply passionate about delivering cultural and behavioural change by helping people see and understand the world around them in different ways. It doesn't have to be in a particular way that is 'right' or 'wrong', but instead, it's about empowering them to think about how things might be different, to see the world a little bit differently and envisage the changes they think are needed for their business.
I'm also hugely curious about how complex systems work and designing innovative solutions to emerging challenges. The business world is growing ever more complex and this complexity makes problem-solving more interesting – especially at a strategic level.
What does good look like for you and S&S?
To be able to consistently deliver disruptive value for our customers by focusing on helping them understand how to recognise their potential, rather than by telling them what to do. It's about making an impact for clients based not just for who they are now, but also who they might be in the future – not necessarily just repeating what has been successful before.
What do you enjoy doing when you're not at work?
Free time is spent either outdoors as much as possible, reading or with my family. Being physically active is hugely important to me and being able to combine that with activities where I can spend time with my family is ideal. So there are a lot of hiking, camping and other such outdoor pursuits that they find themselves dragged to – whatever the weather.
Let's stay in touch!
Will is also going to be joining our writing team, so keep an eye out for his first blog on our Insights page. Subscribe to Pulse – our monthly newsletter filled with unique industry insights from our expert network. Be a part of our LinkedIn family and get daily updates about the world of business and be a part of the conversation.
Written by
Sullivan & Stanley