Get to know our first Manchester addition Jonathan Potter and find out about his passion for building expert networks, the plan for Manchester and his windy career path from aspirational car designer to landing at S&S. 
Hi Jonathan. Welcome to Sullivan & Stanley!
What have you done prior to S&S?
I have worked in technology recruitment across a variety of levels for a leading brand for more than a decade, helping them grow and establish a footprint in the North West, running retained searches, identifying interim change talent and running world-class leadership events for the tech and CIO communities. 
However, before that, I've done plenty of things; sold beers on cricket grounds, peeled potatoes, worked behind numerous bars and in a supermarket for some time. 
I studied automotive design at University and had every intention of becoming a car designer. I fell into recruitment quite randomly and was planning to stay for six months whilst I worked on my portfolio,  but I realised quite early on that I thoroughly enjoyed the networking and community building.
I really got (and still get) a thrill of bringing businesses in and helping people take their next important steps in their career; I'm hugely passionate about seeing others grow and if I can help along the way, that's fantastic!
Why did you choose to join us?
I've been intrigued about the future of work for some time, how it will evolve and what it will look like. I've loved almost every second of my career in high-end technology recruitment as it has taught me a great deal. But a consistent frustration was the feeling of it being a race to the bottom on so many levels. For example, more and more services are getting commoditised and the role of a talent partner often felt like it was getting devalued.
I have always enjoyed the community building, the networking and the championing of others, but felt there was a piece of consultancy missing for me; landing exceptional talent into a programme or team is one thing, taking ownership of executing and helping drive change is another, and I was very much on the lookout for what could allow me to encompass that final component. 
Pat and I have been "courting" one another for a few years and I've been watching the growth of the business from a distance with great admiration. My work is an important part of my life, they are one of the same to me, so when I was moving away from Harvey Nash, it had to feel right as I know I will put everything into the next chapter. S&S just ticks every box; fast-growing, future thinking, hitting its stride and finding a sweet spot, not to mention the whole philosophy around the culture, a growth mindset and radical transparency just felt "very me". It was a no brainer.
What are you going to do in S&S?

My role at S&S is to spearhead the expansion of the business into the wider regions of the UK outside of the capital, first off bringing the brand, our people, our tools, our IP and our industry-leading thought leadership and events programme to Manchester.
I'm really excited to bring a new age, digitally native consultancy to the North West. Can you tell?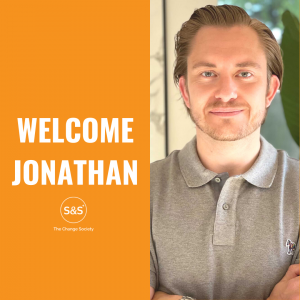 What makes you so passionate about your work?
I really like the feeling of making a difference in people's lives and helping people. I love seeing people thrive, push themselves to new levels and taking the next steps in their careers.
I'm the type of person who can be dropped in a room full of people I don't know and discover what makes them tick. I get a thrill when I see how I can find opportunities in and for people.
I equally love to learn and being in technology and change is in a constant evolution. I really am privileged to get to talk to some of the UK's leading CIO's, CTO's and Change Leaders on a daily basis, learning about what makes great teams and seeing how they have become successful over time. 
What do you like doing when you're not working or networking? 
I have a near four-year-old, Penelope (who featured in many of my LinkedIn videos this past year) and a one year old, Phoenix- so the only 'me time' I get is to go out for a run, therefore most of the time it's all about the family; as it should be!
Gardening leave has been so rewarding and a real privilege to get to spend so much time with both of my kids (and Danni my wife), but I've been thoroughly looking forward to getting stuck back into this. 
Generally, we are a family of foodies and entertainers; we thoroughly enjoy hosting, I'm a good waiter and Danni is an excellent Chef, so I am looking forward to doing more of this as the lockdown eases. We also love going out with friends and family for a bite to eat and a beer…you probably get the vibe 🙂
During the lockdown, I got into testing various red wines, which is a dangerous place as your taste buds evolve and ultimately get more expensive! I can thoroughly recommend a nice bottle of Cabalie 🙂
But in the simplest of ways, I really enjoy mowing the lawn or cleaning the car. If the sun is out, you'll find me in the garden just enjoying the sun as much as I possibly can.
What has been your favourite holiday?
It must have been our family trip to Cyprus last year which we snuck in just before the last lockdown hit us in November/December.  This was our first family holiday together, and we spent our days just swimming in the pool, relaxing and enjoying ourselves. Penelope hasn't stopped talking about it ever since. She constantly wants to look at holiday snaps and asks when we are going away again.
Thanks JP and we are all very excited to have you onboard and excited to see what you will build in the North West.
LET'S STAY IN TOUCH!
Jonathan is also going to be joining our writing team, so keep an eye out for his first blog on our Insights page.
Subscribe to Pulse – our monthly newsletter filled with unique industry insights from our expert network.
Be a part of our LinkedIn family and get daily updates about the world of business and be a part of the conversation.
Written by
Sullivan & Stanley