To echo our founder Pat Lynes – what an event! We welcomed over 75 senior executives and top change agents to our fourth Future Business Summit.
Hosted at S&S HQ in Borough Market, we opted for a more focused and selective event, to make the session as immersive as possible and to provide our guests with the opportunity to meet and greet the speakers, as well as their peers.
With disruption, innovation and transformation at the forefront of everyone's mind, our speakers Pat Lynes, former F1 executive Mark Gallagher and our Chief Transformation Officer Darren Linden commanded the evening, sharing a number of unique insights.
Pat Lynes, founder and CEO, S&S
Pat kicked off the summit with a poignant stat – 70% of change programmes fail to achieve their goals. As startups enter the market, with disruption and innovation at their core, it is more important than ever for businesses to successfully deliver change and transformation.
If organisations are to survive the next decade, something has to change. Pat shared a clear message  – that it's time for a new movement. Something that is considerably different from anything else the S&S team or the change agents in the room have been a part of. A new future business manifesto, created by the crowd, that is going to challenge the way management consultancies operate and recreate a new world of work.
Quite a feat, but one we are determined to deliver on to help the future of work. We will be sharing more on this in the coming months, however, if you're interested in being part of the movement or finding out more in the meantime, get in touch.
Quote of the summit: "Our biggest threat today for innovation towards the future business is internal politics, inertia and organisation culture."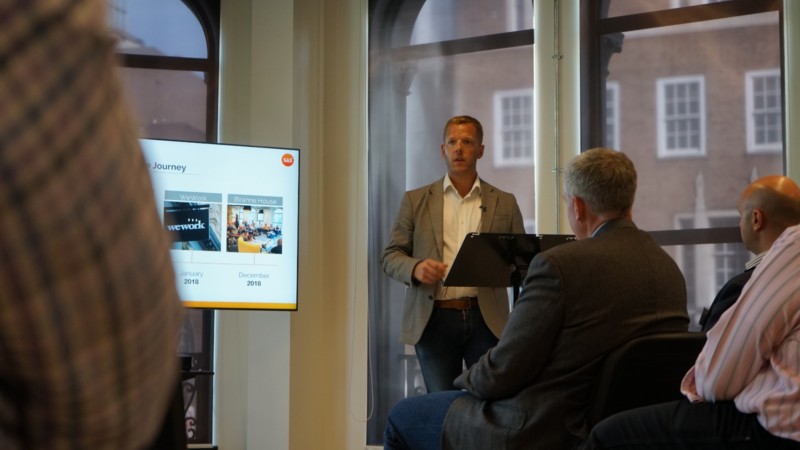 Mark Gallagher, former Formula One executive 
We were keen to bring Mark back as our keynote speaker for a handpicked CxO community, because we feel the pace of which F1 has transformed yearly, is the closest comparator to what the business world will face in the next decade. From the rise of the dotcom bubble, financial crisis, a changing media landscape and new consumer behaviours (to name a few), F1 has become a living breathing case study of successful transformation.
So, how did F1 survive this high level of disruption? Mark revealed four key traits – forward thinking, agility, rapid transformation, as well as visual and inclusive leadership. Through effectively utilising these methods, F1 teams such as McLaren and Williams learnt to diversify their offering becoming more than just sponsored racing teams to now a technology business.
Mark used the journey of Red Bull Racing as the perfect example of racing success. From being laughed at the start line, to four years later turning a failing organisation into a four-time world championship winning team, it offered a multi-dimensional message that disruption can come from where you least expect it.
There were a lot of lessons to take away from Mark's talk, especially around how F1 transitioned into a business agility model. So, if you're interested in learning more, you can read Red Bull's rise to success, as well as Pat's key takings on the five things executive leaders can learn from F1.
Quote of the summit: "The days of command and control leadership should be over because we need to make an inclusive environment where people feel part of the story."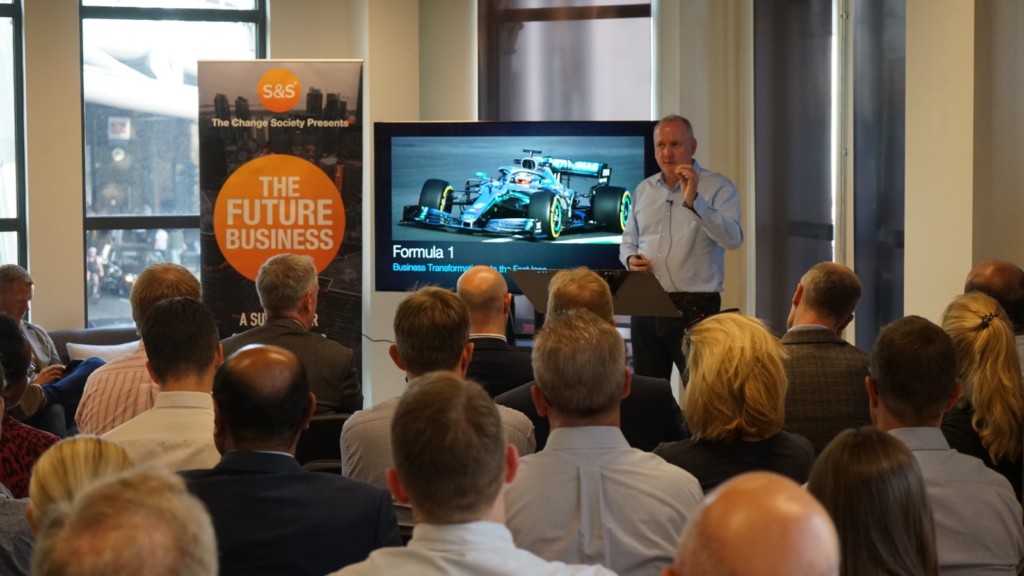 Darren Linden, Chief Transformation Officer, S&S 
Darren closed the evening with an interesting and unusual topic of discussion – what companies can learn from the punk movement.
If we think of punks, we associate them with spiked, coloured hair, black makeup, aggressive clothing and rock music. However, the punk movement was more than this – it was born out of working-class angst young people were feeling about economic equality. It was a way for them to differentiate themselves from mainstream society, a rejection of corporate mass culture and values.
Politically, punks also had a serious political ideology – anarchism. A movement which advocated self-managed, self-governed societies, which rejected hierarchies and strengthened social bonds through common actions.
So, do any of these principles resonate in business today? Darren believes so…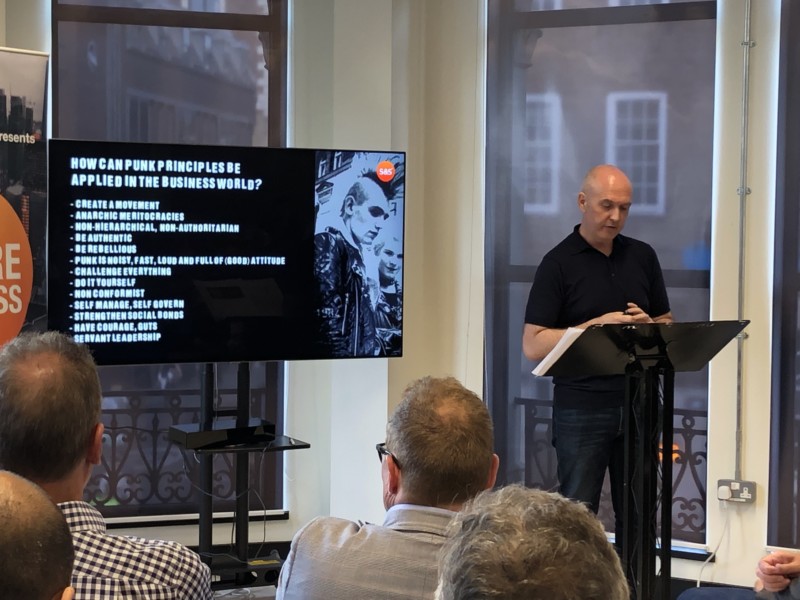 Businesses such as Brewdog, Impossible Foods and Patagonia embody this 'punk' mindset, which they can lend to their success, innovation and forward thinking of challenging the 'norm'.
Too many organisations today conform to the mainstream, meaning when they find great talent, due to organisational constraints, restrictions and hierarchies, they end up creating little impact, so become frustrated and leave.
If we embrace the punk mentality and hire disruptors to work outside of the system, rather than inside, it will remove all fear and obstacles and give people the freedom to make breakthroughs.
Keep an eye out in the next few weeks for an in-depth look from Darren into how the punk ideologies can be used in business.
Quote of the summit: "Egyptians buried their leaders in pyramids 5,000 years ago and companies are still doing the same today." 
Final thoughts
It was great to host another incredible Future Business Summit, this time, at our home in Borough Market. As the world is changing and businesses need to transform now, rather than tomorrow, we will continue to share the most compelling stories of transformation, as well as new ideas and methods, to make sure we deliver on our promise to help organisations thrive in the new world.
Written by
Sullivan & Stanley